Send Inquiry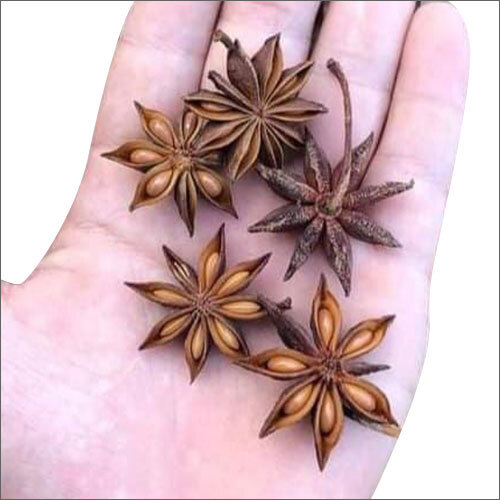 Product Specifications
Dried

A

Brown

Star Anise

Piece
Trade Information
Cash in Advance (CID)

7 Days

Asia, Australia, Central America, North America, South America, Eastern Europe, Western Europe, Middle East, Africa

All India
Product Description
A star-shaped spice called star anise has a potent, licorice-like flavour and a sweet, fragrant aroma. It is taken from the Illicium verum tree and used extensively in cooking. Asian cuisine in particular, including soups, stews, sauces, and marinades, benefits from the peculiar flavour that star anise gives to food. It is a crucial component of powdered Chinese five-spice. Star anise is prized for its potential digestive advantages and antibacterial capabilities in addition to its culinary uses. It adds to the rich and delicious profile of many recipes thanks to its distinctive shape and flavour.
The characteristics and advantages of star anise are described as follows:
Consistencies of Star Anise:
1. Star-shaped pods with eight points, which are how star anise is visually distinguished, are its defining feature. There is a bright brown seed inside each pod.
2. Aroma: Star anise has a powerful, licorice-like aroma with notes of sweetness and spice.
3. Flavour: It has a distinct and powerful flavour profile that is warm, sweet, and just a little bit pungent. The flavour, which gives food depth, is frequently described as having a licorice-like flavour.
Advantages of Star Anise:
1. Star anise is a staple ingredient in many Asian meals, particularly those from China and Vietnam. It frequently adds a unique flavour and scent to soups, stews, braises, and sauces.
2. Star anise has been utilised in traditional medicine as a possible digestive aid. Indigestion, bloating, and stomach discomfort might be lessened by it.
3. Anethole and shikimic acid, two substances with antibacterial effects, can be found in star anise. These substances might aid in preventing the development of specific bacteria and fungus.
4. Star anise is a source of shikimic acid, which is utilised in the manufacturing of the antiviral medication Tamiflu. It has long been utilised for its potential respiratory advantages, which include the possibility of cough and congestion alleviation.
5. Star anise is also used for its aromas due to its fragrant qualities. It is frequently used to give potpourri, sachets, and home-made spice blends more smell.
In order to impart its flavour, star anise is often added intact to recipes while they are simmering. It's vital to remember that star anise should only be used sparingly because of how strong its flavour may be.
In general, star anise is a multipurpose spice valued for its distinctive look, powerful scent, and potential health advantages. It is appreciated as an ingredient in many different cuisines around the world since it gives a variety of culinary creations depth and complexity.
Enter Buying Requirement Details
Other Products in 'Raw Spices' category