Send Inquiry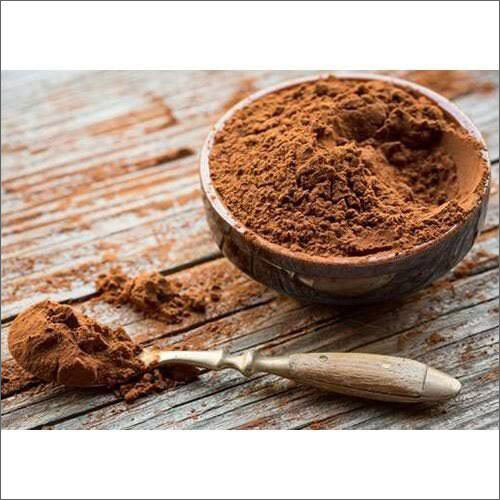 Trade Information
Cash in Advance (CID)

3-4 Days

Asia, Australia, Central America, North America, South America, Eastern Europe, Western Europe, Middle East, Africa

All India
Product Description
The cacao bean, a South American native, is the source of the popular ingredient cocoa powder. After the cocoa butter has been extracted, the cacao beans are ground to produce it. Due to its robust chocolate flavour, cocoa powder is frequently used in baking, beverages, and desserts.
Cocoa powder has the following qualities, applications, and advantages:
Characteristics of cocoa powder
1. Taste: Cocoa powder has a rich, bittersweet chocolate flavour. The quality of the beans and the processing techniques can have an impact on the flavour.
2. Colour: Depending on the type and processing, it often has a dark brown hue that can range from reddish-brown to blackish-brown.
3. The various forms of cocoa powder include natural cocoa powder, which is acidic, Dutch-processed cocoa powder, which is alkalized, and dark cocoa powder, which is exceptionally rich and dark.
How to Use Cocoa Powder:
1. Cocoa powder is a key component in baking, especially for preparing cakes, brownies, cookies, and pastries with chocolate flavour. It gives these sweets a particular chocolate flavour.
2. Drinks: Hot chocolate, chocolate milk, and other drinks with chocolate bases can all be made with cocoa powder. It can be made into a soothing beverage by combining it with milk or water and adding sugar to taste.
3. Desserts: It is frequently used to make mousses, puddings, ice creams, and truffles, giving these decadent treats a rich chocolate flavour.
4. Savoury meals: Some cuisines employ cocoa powder as a secret ingredient to give savoury dishes like chilli, mole sauce, and meat marinades depth and complexity.
The advantages of cocoa powder:
1. Antioxidants: Flavonoids, in particular, which are abundant in cocoa powder, can help fight oxidative stress and lessen inflammation in the body.
2. Mood Enhancer: Consuming cocoa powder promotes the brain's creation of endorphins and serotonin, which can enhance mood and foster a sense of wellbeing.
3. Cardiovascular Health: According to some studies, the flavonoids in cocoa powder may improve blood flow, lower blood pressure, and reduce the risk of heart disease, all of which are good things for the heart.
4. Nutritional Value: Iron, magnesium, and potassium are among the vital minerals found in cocoa powder. In little amounts, it is also a good source of protein and dietary fibre.
It's vital to remember that cocoa powder has an acidic flavour when using it and that Dutch-processed cocoa powder has been treated with an alkali to balance the acidity. It is crucial to use the correct cocoa powder according to the recipe's instructions because the type of cocoa powder mentioned can have an impact on the final product.
All things considered, cocoa powder is a flexible and delectable ingredient that gives a delicious chocolate flavour to a variety of culinary creations.
Enter Buying Requirement Details